I originally wrote much of this for a thread on the WOTC boards dealing with how to adjust Saga for the next version of the Star Wars rpg. I didn't get a chance to post it prior to the announcement by WOTC not to renew its license. So please excuse the Star Wars specific references. I think the general concepts would lend themselves well to the e20 game. This encompasses nearly the gamut of the different systems. I apologize in advance for the length and for not breaking it up into different posts for different systems by the correct forum. I didn't because most of these systems make sense when applied together and not as much when separated. Also, apologize that some of the pictures are a bit weird. Didn't have time to mess with them to fix it.
a. Character damage- Characters have two sets of "damage" statistics. One is a HPs, just like we are used to. Characters also have wounds. Wounds are much less numerous than HPs. How many wounds a character has is determined by the base stats, level for a PC, and a combination of stats, level, and type of NPC/enemy (minion, henchman, Elite, Solo, etc). Wounds represent real physical damage to the character, are much harder to heal and result in a penalty to all checks and saves equal to the number of wounds sustained (max penalty -3). Now, this doesn't seem that much different from the WP/VP system. However, there are three key differences…
i. All attacks damage HPs. HP damage is rolled as normal and then other effects (such as wound damage) are resolved as well.
ii. Whether or not an attack can cause wound damage is completely situation based; that situation being a character's "reasonable chance of defending oneself." So in the clichéd example from RCR days, the Rebel Trooper firing at an aware Darth Vader wielding an ignited lightsaber can only ever do HP damage. However, should Darth Vader be knocked down, disoriented and disarmed by an explosion and then a hidden Rebel Trooper shoots at his back, he has the potential to do wound damage. Whether or not a character gets wound damage never relies on a lucky roll.
iii. Not everything has HPs. Having HPs at all, is based on the capacity, situation dependent, for the character (or whatever) to defend itself. So something like a door or a wall wouldn't have HPs, only wounds. By the same token, massive, slow moving ships like Star Destroyers and creatures such as giant space slugs wouldn't have HPs either. After all, these types of things don't really dodge or block things, they simply absorb the damage.
iv. Healing Surges/Reserves- I like this idea of course. It doesn't say in the FAQ, but I assume there would be talents that allow characters to spend Reserve surges to replenish HPs in fights.
b. Attack Threat Rating- Based on the situation of the attack, each attack is given a threat rating (I will use colors here because I haven't thought of a better classification method as of yet…help welcome). The game will include multiple methods for characters to reduce an attacks threat level, but I will explain the threat levels first.
i. Green- all attacks default to Green, which means attack hits, roll HP damage, apply DR from Armor (yes Armor does DR, see below) and apply HP damage.
ii. Yellow- these attacks do HP damage and threaten a wound (or wounds in the case of more powerful attacks). When a character is threatened by a wound he makes a Wound check at DC 12 (armor bonus adds to the save roll, see below) and sustains 1 wound if he fails. An attack is a yellow threat when a character finds himself in a compromised position, such that his defensive skills have essentially no effect on whether or not he would be struck or not. Some examples of a yellow threat attacks are: blaster or slugthrower attacks against an opponent without cover (or Jedi not wielding a lightsaber), lightsaber attack against unarmed or non lightsaber proof weapon wielding character (could be mitigated with special training) and explosives attacks.
iii. Red- these attacks do HP damage, automatically do one wound, threaten a number of additional wounds based on the attack and require a death save. Minions wouldn't get a death save, Henchmen or other important enemies would make the save at 20, Major NPCs, powerful enemies and PCs would make a save at 10. Red attacks are those where a character or NPC would be in an extremely compromised position. Examples include lightsaber to the throat, gun to the back of the head, attack against a restrained character, sniper shot, stealth kill.
iv. Black- these attacks simply kill the character/NPC. Examples include being thrown into the vacuum of space or being at ground zero of a massive explosion.
c. Ranged Threat- Semi-automatic ranged weapons (blaster and slugthrower type) threaten areas just like melee weapons. A character wielding such a weapon chooses one of four options at the end of its turn.
i. 360- threatens all adjacent squares out to point blank range (see ranges below). This method is generally not available to bipod or mounted weapons.
ii. Cone- threatens a designated cone out to assault range.
iii. Line – threatens a 3 square wide line out to maneuver range.
iv. Target- designate one and only one target out to sniper range which you threaten until the start of your next turn. Alternately choose one of the previous three options and designate it as a targeted version. At any point before the start of your next turn you may pick a target when either 1) a character in the threatened area provokes an attack of opportunity or 2) you become aware of a new character. This second method is generally not available to bipod or mounted weapons. Using this method you may only threaten one opponent (without special abilities).
d. Weapon Ranges- in RPGs the default effect of increased range on ranged attacks is increasing penalties to hit. This is a reasonable facsimile/abstraction if we were trying to represent the effect of increased range on a shooting contest where the participants are in static shoot positions, firing at fixed targets…but we're not. We are simulating combat. Combat with modern type weaponry. In this case the range at which combat occurs has profound tactical effects that are not properly simulated by simple attack penalties.
Note: Certain weapons may not have one or more of these range categories (see table).
i. Point Blank- Attacks against opponents unable to reasonably defend themselves default to red.
ii. Assault- Attacks against opponents unable to reasonably defend themselves default to yellow.
iii. Maneuver- By default, attacks against targets at this range are green, regardless of the situation (lack of cover, etc) and take a -5 to the attack roll. However, if a character takes a QUICK AIM action prior to the attack, the attack's effects are determined as though it was an attack at assault range, although the attack still takes a -2 to hit.
iv. Sniper- Attacks at this range have no chance of hitting without the character taking some time to aim. If the character takes a QUICK AIM action the attack is treated as a though it was a maneuver range attack (-5 to hit, always green)). If the character takes a FULL AIM action the attack is treated as a though it was an assault range attack (-2 to hit, ability to become yellow).
v. Sights- will be categorized into sights specifically for each of the ranges and effects to complement those ranges. Assault sights will aid in attacks of opportunity, Maneuver sights will increase maneuver range and/or reduce the attack penalties and Sniper sights will increase Sniper range and/or reduce attack penalties.
vi. Game maps- For simplicity sake GMs may also use maps to determine range. For instance, using a standard gameplay mat (like ones for Star Wars minis) the GM might say that everywhere within line of effect on the Map is considered assault range for rifle weapons. He may designate other maps near or affecting that map that are say, Sniper range for rifles from the main map and unreachable by pistol.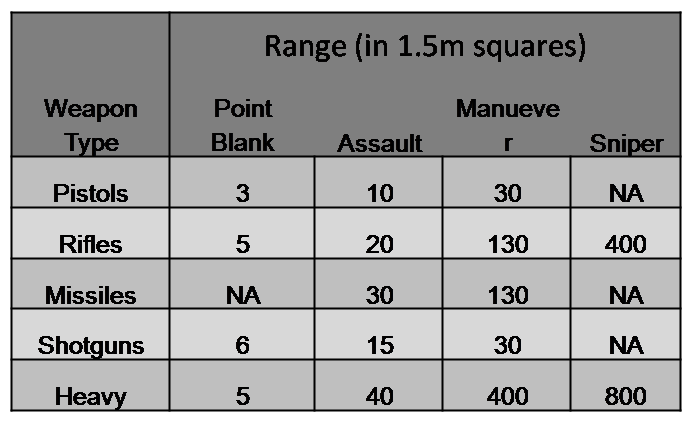 e. New Actions- The combat action rules will be structured much like 4e. However, there will be some additional actions available to characters.
i. Tactical Advance; standard action- the character can move up to its speed. Throughout the movement the character gains all benefits of cover. This effect ends as soon as the character stops movement.
ii. Cover me; standard action- the character makes a ranged attack roll against DC 10. If successful, he grants one ally the ability to take a tactical advance as a move action.
iii. Opportunity movement; opportunity action- anything that provokes an attack of opportunity also provokes opportunity movement; which is movement up to ½ the character's speed. Opportunity movement never provokes attacks of opportunity from the provoking opponent.
iv. Quick Aim; Move Action- effect based on the range.
v. Full Aim; Full Round- effect based on the range.
f. Classes- this is not a class like the soldier or the scout. Everything can be (and will be should game statistics be necessary) assigned a class. I am using A, B, C, D, E (again for a lack of better terminology, help wanted), with A being the highest class and E being the lowest. For the most part, everything has both an offensive class and a defensive class. Generally, a thing will primarily use one or the other when interacting with the game world. The way it works, is that when two things come into conflict, we compare the offensive class vs the defensive class of those two things. If the offensive class equals or exceeds the defensive class the attack is resolved as normal, if not, the attack has no effect (in most cases). The defensive class also determines the base Wound check DC. To explain this better let's look at the classes:
i. E- Defensively this would include Humans, most sentient species that would be used as PCs, small semi-fragile objects such as wooden chairs or doors, most personal armors, the handle of a lightsaber or a blaster pistol. Offensively this would include human unarmed attacks (at least those of the less than kung fu master level smily), non-powered melee weapons and lower power blaster weapons such as hold out blasters. Base wound check DC 12.
ii. D- Defensively this would include creatures like a rancor, most small vehicles (speeder bikes, AT-RT, ground speeders, etc), heavy powered battle armors and the average (household) metal doors. Offensively this would include most powered melee weapons, personal sized blaster weapons and a rancor's natural weapons (or maybe these should class C??). Base wound check DC 12.
iii. C- Defensively this would include most starfighters, small to medium sized space transports, larger walkers (AT-ST), larger ground vehicles (trade federation battle tank), fortress walls and doors. Offensively this would include starfighter blasters and lasers, some anti-vehicle weapons and some explosives. Base wound check DC 17.
iv. B- Defensively this would include small to medium sized capital ships and very small space stations. Offensively it would include blaster and laser weapons from these ships and many starfighter sized missile weapons. It should be noted that ships of this size would likely have multiple classes. For instance, the bridge or sublight drives may be the ships weak points and of a lower class. Base wound check DC 22.
v. A- Defensively this would include the largest capital ships and space stations. Offensively this would include weapons on these ships and space stations, starfighter missiles (proton torpedoes) and lightsabers. Base wound check DC 22.
g. Weapons- all weapons will have a basic damage die (dice). Most weapons will have a base of 2d damage (powered melee and blaster weapons). Actual attack damage is determined by the attack talent used. Melee basic attacks and Ranged basic attacks, as well as the majority of core attack talents will default to [B] (where [B] is the weapon's base damage). This damage will increase like [B] + x[W] (where [W] is the weapon's damage die size) for minor and major attack talents. Like 4e, critical hits do max damage instead of 2 x damage. Unlike 4e, all weapons do extra damage on a critical hit. Weapons will also have properties; similar to 4e but with some specific to modern weaponry. Some examples include:
i. Load (free, minor, move, standard, rounds (1,2,3, etc), 10)- So, when do you have to reload? For load free, in most cases, this has no game effect. If the weapon has a "load # action type" property, than the intent is that you actually count the shots or attacks. After the set number of shots you must spend the required action reloading prior attacking with the weapon again. For certain large weapons you may have to devote one or more full round actions to reloading. If the weapon has a "load action type" property, with no number, the weapon never "needs" to be reloaded during a fight (except for GM determined situations). However, if the character has used up all of his Reaction points (see below) then he may (once per encounter) take the required reload action and regain a Reaction point (think the hero taking a cinematic breather behind cover, slapping in a new mag, slamming the chamber forward, making a smart comment -clichéd of course, "I'm too old for this $h!t"- under his breath and then popping out to return fire).
ii. Auto- this simply allows the wielder to use attack talents with the auto key word (potentially a standard auto-fire attack option). Most auto weapons will have the property framed as "Auto #," where the number denotes the number of auto attacks that may be used before a reload action is required. Many auto weapons, especially large (tripod, crew-served) or mounted weapons, will have the property framed as "Auto # +(1,2 or xd)" where the + xd denote additional damage done when an auto attack is used.
iii. Provoke opportunity- weapons such as grenades, handheld missile launchers and handheld grenade launchers are distracting enough that simply using them provokes opportunity actions from anyone threatening them.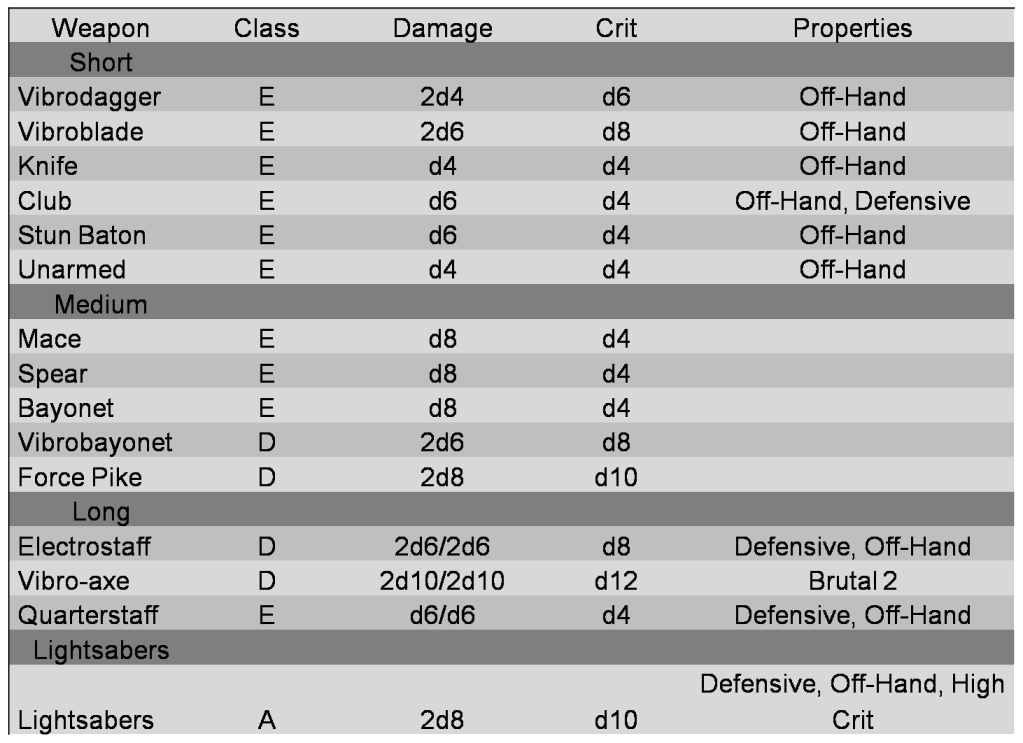 h. Explosives- there are some unique aspects to explosives.
i. Blast Radius- explosives have up to three blast radii that effects opponents differently depending on which radii they are in when the detonation occurs. The size of each radius is determined by the particular explosive. However, enclosed spaces may amplify the effects. Any explosive that has the enclosed property affects all opponents in a "reasonably sized" enclosed space. "Reasonably sized" is up to GM discretion
1. Kill- attack against opponent without cover is red
2. Maim- attack against opponent without cover is yellow
3. Shock- attack against opponent without cover is green
ii. Effects by radius- each explosive has various effects that are listed for each radius they apply to. Some common effects are:
1. Damage- just like damage for any weapon
2. Push #- the target is pushed the specified number of squares from the explosion's originating square.
3. Prone- the target is knocked prone.
4. Blinded/Dazed/Stunned end/start- the target suffers the specified condition(s) until the end or start of their next turn.
i. Armor- armor provides characters 2 bonuses and 2 penalties. Characters wearing armor gain DR against all attacks that damage HPs and gain a bonus to Wound checks. The DR and Wound check bonus equals the Armor Bonus. However, the wearer takes a penalty to Reflex Defense and (generally) moves at reduced speed.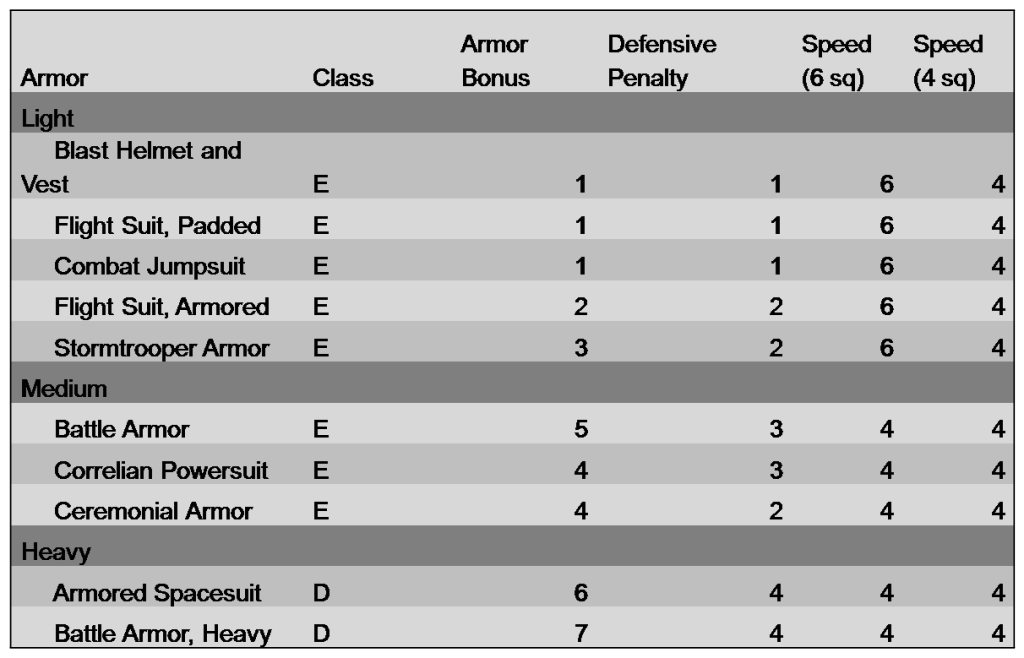 j. Vehicles
i. Systems- Each vehicle will be composed of a number of systems, each of which will have a number of wounds. A small vehicle like a speeder bike would only have a few systems; say engines, blaster cannon, stabilizers, and structure. A larger vehicle like an AT-ST would have left leg, right leg, cockpit, each weapon and structure. Destroying different systems would have effects depending on the particular system; from preventing the use of a certain weapon, to effectively disabling the vehicle (such as slicing off the leg of an AT-ST, wrapping the legs of an AT-AT in cable or destroying the stabilizers on a speeder bike). However, all vehicles have the structure system; this represents the overall resilience of the vehicle and when completely depleted destroys the vehicle.
ii. Vehicle Weapons- As the weapons get more powerful the weapon base damage may increase to 3, 4 or more damage dice (remember personal weapons are usually 2d). In any case where a character uses an attack power that does extra damage, additional damage dice are added one at a time, not in multiples of the base damage. So a character uses an encounter power (2[W] damage) with a mounted blaster cannon (base damage 3d8) rolls 4d8 damage if he hits. Many vehicle weapons will also have a damage multiplier such as x2, x3 or more. This determines the number of wounds the attack threatens should it directly hit a system as well as the multiplier to the HP damage. For example, a character uses a ranged basic attack to fire a vehicle weapon with base damage 3d8 and a damage multiple of x2. If he hits HPs, he will roll 3d8x2 damage. If he hits systems, the vehicle will check for 2 wounds (1d20 + AB, save 12). Attack powers with the keyword VEHICLE and/or MOUNTED can be used with Vehicle or mounted weapons. Attack powers with the keyword WOUND #, threaten additional wounds equal to the #. So how do we determine if the attack affects HPs, systems or both?...
iii. Attacking a Vehicle- whether the attack damages HPs, threaten systems or does both depends on whether the vehicle relies primarily on the pilot's skill or its armor for defense.
1. Pilot's skill- these include fast maneuverable vehicles like speeder bikes and starfighters. All such vehicles have HPs. Attackers have three options when attacking these types of vehicles:
a. Regular attack- damages to HPs. Vehicle reduces to 0 HPs is destroyed.
b. Auxiliary system- targets a system whose destruction will degrade capability but not disable the entire vehicle, such as a weapon or visible communications apparatus; such systems identified with a on the stat block, increased difficulty to hit that system). On a hit, if the number shown on the die is an even number than the attack threatens wounds on the targeted system. If the number shown on the die is odd, the attack does HP damage.
c. Special attacks- certain encounter/daily powers or situations may allow the character to target vehicle systems directly.
2. Armor- slow, ponderous vehicles such as large walkers or capital ships. These vehicles don't get HPs; all attacks directly target systems. These vehicles survive on the battlefield because of their heavy armor and substantial structure. Attacker has one attack option:
a. Attack a system- the attacker chooses a system to attack (which can be structure). If the attack hits and the number shown on the die is an even number, the attack hits the desired system. If the attack hits and the number shown on the die is an odd number, the attack hits the vehicle's structure (so choice of structure always damages structure on a hit).
iv. Attacking a character in a vehicle- availability of this option depends on whether the target is a pilot or passenger.
1. Pilot/Copilot- Pilot/Copilot can be targeted. However, PCs, Henchmen, and Villains (see below) can siphon vehicle HPs (if available) to "protect" themselves. They can also siphon their HPs to protect the vehicle should it be targeted. This choice and the relative amounts of HPs lost from each pool are up to the pilot/copilot.
2. Passenger/Gunner- these characters are targeted as normal and cannot exchange HPs with the vehcie
v. Shields- Shields have classes just like everything else. In order to damage a shield, the attack class must equal or exceed the shield's class. Shields also have a shield rating which is expressed as a number. Any hit on a shield absorbs one multiple of the weapons base damage (or one wound) per shield rating and the shield rating then degrades one step. For example, a ranged basic attack dealing 3d8x2 damage against a shield 2 (weapon class = shield class), will be completely stopped by the shield. The shield will degrade to 1, so using the same attack again will deal 3d8 damage, threaten one wound, or do both, depending on the situation (and degrade the shield to 0). Certain attack powers or weapons may have the SHIELDBUSTER # keyword. After resolving such an attack the shield rating degrades additional levels equal to the # specified in the keyword. Shields also have a recharge rate expressed like 1 / 2 (meaning "increase in shield rating" "per" "# of rounds"). Like Saga, a PC or NPC must take 3 swift actions to increase the shield rating. So in the example above, if the vehicle's shields are degraded, they pilot (or technicians) must wait at least one round before they can start spending actions to recharge the shield. If a shield is reduced to 0, it takes one additional round before the shield can be recharged.
vi. Class A and B weapons- Generally these are the massive turbolaser type weapons. In Saga terms these are the weapons that take -20 to hit anything less than colossal size. With some notable exceptions (like the lightsaber) most of these weapons will not have damage expressed in damage dice; they will simply list number of wounds threatened. GMs wishing to use these types of weapons to threaten PCs either on foot or in small vehicles are encouraged to use them as environmental hazards (attack roll against defense or PC skill checks to avoid) and pick damage values appropriate to the PC's level. This is, of course, GM prerogative. These weapons can take the -20 to hit and fire at the PCs, but a hit automatically threatens wounds. These types of weapons generally do 8-10 wounds on a hit, so statistically speaking, using these weapons against PCs is an (deadly) all or nothing proposition.
2. Basic Statistics-
a. The new ability scores- average human is 4 (minimum MASS for medium sized humanoid is 4). Ability score and ability score max increases with level to a max of 11 (although special situations may allow characters to exceed this limit). All abilities have an ability bonus which = ability score -4.
i. PHYSIQUE - Physique is a measure of a character's overall physical conditioning. Not simply dexterity or physical strength, it is a reflection of the whole package.
ii. MASS- Mass is the primary indicator of overall physical presence. High mass could be either a lot of fat, or mounds of honed muscle, depending upon the Physique of the character.
iii. INTELLIGENCE- A description of pure intellectual processing power; how thorough, deep, and complex the thought of any individual is.
iv. ACUITY- The speed at which thought occurs, and how quickly an individual processes information; commonly referred to as instinct, common sense, or cunning.
v. PRESENCE- The character's force of personality combined with their mental and emotional toughness; a mix of willpower and charisma.
vi. Why new ability scores?- Intelligence, Acuity and Presence are really just Int, Wis and Cha. I just think the words, Acuity and Presence better describe what we are talking about when we say Wis and Cha. Might be helpful to new gamers, as I have seen a lot of confusion about this in the past. Take it or leave it. As for physique and mass, I like the dynamic nature of these two. The character has to choose between the benefits of increased Mass (more HPs, more wounds, more hand to hand damage) vs the reduced REACTION BONUS and reduced Reaction points. Purely from a simulationist POV it is much better than the Str, Dex and Con because those tend to be so closely related. Honestly, the character with the 20 Dex and 8 Str makes almost no sense. That is exactly the character that has the outrageous tumble check but can barely support their own weight. How exactly does someone with an 8 Str flip over an opponent's head or do a handspring or any other acrobatic maneuver. They couldn't. Physique is much better in that regard. The physique mass interaction is the same interaction that any athlete has to go through when training. What is better, size, or pound for pound athletic ability? Same choice players now have to make.
b. Derived Scores
EDIT: ChangeD the REACTION formula
i. REACTION = (PHYSIQUE + best 2 out of 3 - INTELLIGENCE + ACUITY + PRESENCE)/3; Combat effectiveness.
a. REACTION BONUS = REACTION – MASS. This is also the number of Reaction Points (see below) the character gets.
ii. FORTITUDE = (PHYSIQUE + MASS + PRESENCE)/3; Overall toughness and resolve to fight.
iii. WILL= (INTELLIGENCE + ACUITY + PRESENCE)/3; Mental and emotional agility and toughness.
c. Defenses
i. Reflex Defense = 10 + REACTION; Ability to react to and ward off physical attacks.
ii. Fortitude Defense = 10 + FORTITUDE; A character's ability to shrug off physically debilitating conditions and continue in the face of physical adversity.
iii. Will Defense = 10 + WILL; A character's ability to resist mental subversion and attack.
iv. Base HPs = PHYSIQUE + PRESENCE + MASS + MASS
3. Task Resolution Basics- Reaction or Ability score + Skill Bonus + 1d20 vs DC. In the case of attacks the vast majority of physical attacks will use Reaction + skill vs relevant defense + relevant skill. For example, a blaster rifle on lightsaber attack would be Reaction + rifles (Attacker) vs Reaction + Lightsaber (defender). Bonus damage depends on the attack power used; ranged and melee basic attacks use the REACTION bonus as the damage bonus. In addition, all melee attacks gain a damage bonus equal to the MASS bonus. The skill bonus and ability scores increase as the character levels.
4. Character construction- PCs will have four main elements: Talents, Skills, Feats and Aspects; and 3 types of points: Fate (or maybe Force, help for name needed again) Points, Reaction points and Action points.
a. Talents- as described in the FAQ
b. Feats- very similar to 4e in that feats generally improve a current capability, not grant a new one. That is the purview of talents.
c. Aspects- these are very similar to the aspects used in the free game, Spirit of the Century (SotC;
http://www.faterpg.com/dl/sotc-srd.html
). All characters start with 10 Aspect points. Each Aspect can be used just like in SotC; spend one Fate point to compel the Aspect at an appropriate time and get a +2 to the roll. The character can also compel the Aspect to alter the game in an appropriate way. The GM can compel the Aspect to get a player to do something by offering the player a "carrot" (Fate point or other bonus) if he does it and a stick (must pay a Fate point) if he doesn't. However there are some important differences:
i. Types of Aspects- SotC uses Aspects as all encompassing of the character's traits. Aspects are meant to define the "intangibles"; personality, relationships, status in organizations, etc. For example, "Big as an Ox, (and half as dumb)," is an appropriate (and humorous) Aspect for SotC. However, if you want a big, not so smart character for e20 give him a high MASS and average INTELLIGENCE. Basically, Aspects cannot cover physical attributes, mental attributes or particular talent in any area.
ii. Aspect Categories- All characters have seven required Aspect categories they must satisfy; all characters choose 2 x personality Aspects, 2 x relationship Aspects, 2 x organization Aspects and 1 x resources Aspect. Each Aspect costs 1 Aspect point. A clever character may be able to satisfy more than one of these requirements with a single Aspect. For instance, Han Solo's player might use "Afraid I was gonna leave without giving you a goodbye kiss?" to satisfy his relationship Aspect with Princess Leia as well as a personality Aspect signifying his cockiness. After the character has satisfied the requirements, he should have 3 Aspect points left over. He can use these to upgrade current Aspects or buy more. What do I mean by upgrade?
1. Upgrades- This depends on the tone of the game. For instance, if the campaign is based around the characters as members of Rogue Squadron then it is appropriate for the characters to pick an aspect where they are members of Rogue Squadron and of similar rank. Should one of the characters want to outrank his fellow party members (in a significant way, such as two ranks higher or being an officer among enlisted) that would require an upgrade, although GM approval would be almost assured as this upgrade is fairly inconsequential. On the other hand, should one of the characters want to play Rogue Leader, then it would require 2 x upgrades and GM approval would be unlikely because it has much more important effects on the campaign structure. For another example, let's take resources. If the campaign concept is a Serenity or Cowboy Bebop style crew that is basically scraping by, job to job without even the guarantee of enough food, then a character taking an Aspect such as "Trust fund baby," or "Bestselling Free Lance writer," would be subject to GM approval and require one or more upgrades. However, those same Aspects might be the norm if the characters are playing a group of young Coruscani socialites that become embroiled in the rebellion. By the same token the character can take a downgrade, by being generally worse off than the tone of the game. Although this gives characters no bonus in creation, it will give the character extra roleplay opportunities and time in the spotlight as his character deals with his shortcomings. It should also be noted, that throughout play, Aspects will likely up- and down- grade quite often and they may even morph considerably. For instance, a character's relationship Aspect for the love of his life, may morph into a personality Aspect about his desire for revenge against the Empire that killed her, to a personality aspect of greater moral understanding that killing only begets more killing and doesn't end the hurt.
2. Destiny- this is an optional type of Aspect. Unlike Saga, the destiny can be much less grand or galaxy shaking and may be used as a character goal. For instance a character might have the Destiny to become the best Podracer in system X or to become an Admiral in the Imperial Navy. I see these types of Destiny's as great tools to guide the GM to in building adventures, events and rewards (enhancements) to satisfy the player's goals for their character. Alternatively (or in addition) the GM can give the party a secret Destiny that they fulfill through playing the story and thereby gain some new reward.
iii. Example of Aspect choices (Format = Aspect type Aspect #- specific object of Aspect: "Aspect name")
Han Solo: Personality 1: "Never tell me the odds"; Relationship 1, Personality 2- Princess Leia: "Afraid I was gonna leave without giving you a goodbye kiss?"; Relationship 2- Chewbacca: "The life debt is greater than any one life"; Organization 1: "Imperial Academy dropout"; Organization 2: "Reluctant rebel"; Resources: "Kessel run in less than 12 parsecs"; Equipment- Millennium Falcon: "Fast ship? You've never heard of the Millennium Falcon?"; Destiny: "Hero of the Rebellion"; Relationship 3-connections: "Friends in low places."; Relationship 4- Jaaba: "You may have been a good smuggler, but now you're Bantha fodder. "
d. Fate (Force) Points- See table for effects. Characters get one Fate point for each aspect they have. Characters renew these at the start of each game session or story; depending on the specifics of the campaign. For instance, if during a game session the characters complete 3-4 encounters and advance the current plotline, it is probably appropriate to refresh their fate points at the start of the next game session. On the other hand, if the group has only a short game session and only play through one minor encounter, then a refresh of fate points is probably not warranted. A refresh may even be warranted mid way through a game session depending on its length and how far the story advances.
e. Reaction points- These are an encounter resource and refresh just like minor talents after a short rest. For their effects, see the table.
f. Action points- Exactly like 4e. Characters start with 1 and gain 1 more for each milestone (completion of 2 encounters) they reach. One action point can be spent per encounter and can be used to gain an extra action (standard, move or swift).
Reaction Points.
Reaction Points
______________________
Effect
2 +1 per subsequent use in encounter
____
Reduce an attacks threat level by one step
1
__________________________________
Take an additional immediate reaction this round
2
___________________________________
Regain the use of an immediate reaction minor talent as a free action
3
___________________________________
Regain the use of an opportunity action minor talent as a free action
Variable
_____________________________
Activate certain class features, talents, feats or enhancements
Fate Points.
Fate Points
______________________
Effect
2
_________________________________
Reduce an attacks threat level by one step
1-3
__________________________________
Inconsequential story manipulation
4-6
___________________________________
Minor story manipulation
7-10
___________________________________
Significant story manipulation
11+
___________________________________
Major story manipulation
Regarding systems presented in the FAQ
Max Damage Threshold- In cinematic combat situations we generally see heroes and villains sustain 4 types of damage.
1. HP damage- the really abstract; the near misses, small cuts, scrapes bruises. All of the stuff that with a little grit and adrenaline are no problem for a while.
2. Short term affects- these are affects like stunned, dazed, slowed, etc that we see in 4e. A hit that puts the affected character at a disadvantage for a short time but that is recoverable within the same fight.
3. Wounds- actual long term (relatively speaking) physical damage. A bullet hole or sword cut. Heroes of course generally seem to continue to fight beyond what we could realistically expect and recover sooner.
4. Grievous Wound- limb loss or other such permanent/semi-permanent wounds.
My understanding, is that the intent of the Max Damage Theshold is to represent some amalgam of damage types 2 and 3, leaning towards damage type 2. I agree that these damage types should be represented, but…when we are talking about this I think it is important to define exactly what effects we want the system to have. I think we want noticeable effects on the character that affect the tactical situation by causing the character, its allies and its enemies to consider the effect when choosing actions during a round. A simple check penalty doesn't accomplish this. Rarely would it change what die roll was made, only the ultimate outcome of such a roll. For instance, a character with a -3 fatigue penalty can still take a full suite of actions. However, a dazed character must choose only one action. A check penalty really doesn't change tactics. The guy with a -3 fatigue penalty can still make attacks of opportunity. However, a character with a talent that can be used to daze an opponent can strategically use such a talent to put an enemy at a disadvantage and allow allies to maneuver past the dazed opponent.
Let's say you agree with my above points…so why then do we not want to use a Max Damage threshold that produces effects instead of simple check penalties. Well, a Max Damage threshold presents some problems in and of itself. First of all, it gives an added bonus to one particular niche combat build. The one hit wonder. High damage is a benefit in and of itself. It shouldn't come with additional benefits…unless we want to give a benefit to every type of combat build.
1. High Defense- attack roll misses by a certain amount then the attacker takes a minus on future attacks.
2. Multiple attacks- the character hits with multiple attacks then the defender takes a minus to actions and defenses.
3. High Attack- hit by certain amount gives penalties to the defender.
I don't think this is a road we want to go down. I think the best way to handle damage type #2 (above) is to give the choice to the player (or GM). Put those short term recoverable affects as part of certain attacks/talents. As for damage type #3, I think it should be situation based, like I explain above with my wounds system. A hero/villain should only take a wound if they are either near defeat or their opponent outmaneuvers them into a compromised position. And really, the system you proposed doesn't explicitly account for damage type 3. I guess once a character is out of HP reserves and starts to take HP damage, you could consider that real wounds may be occurring. However, that just doesn't jive with how we see cinematic events play out in movies and other media. Sometimes the hero or villain get outmaneuvered a take a serious hit early on, and then have to deal with the handicap while trying to accomplish their goals.. As for damage type#4, that is best left at GM discretion/GM-player collaboration or produced from the effects of Fate point use.
Classes: The FAQ is very generic on what the classes will be like, but here is what I would propose. Characters build their own class through a combination of choosing a ROLE, TEMPLATE and POWER SOURCE. The 4 ROLES are the 4 combat roles like 4e. So there is a Guardian ROLE, Striker ROLE, Leader ROLE and Controller ROLE. Each ROLE would have two ROLE features that all members that ROLE would gain. Then…
Each ROLE would have several (probably 4 for the base game) TEMPLATES. Each TEMPLATE would give a unique TEMPLATE feature that adds to the two class features the character already gained from his ROLE. For instance, the Guardian ROLE might have the following TEMPLATES:
Steadfast- this guardian excels at absorbing, deflecting or avoiding damage to the character.
Protecting- this guardian excels at preventing damage to its allies.
Deadly- this guardian is better than most guardians at dishing out damage.
Disruptive- this guardian is better than most guardians at preventing enemies from maneuvering and attacking allies.
Then the character chooses a POWER SOURCE, which would also be very broad and could be genre specific. The character would gain a 4th POWER SOURCE feature which would be unique to the ROLE-POWER SOURCE combo. For instance, generically we might have the following POWER SOURCES Martial, Natural, Mystical, Tech.
Martial- through dedication and training the character learns extraordinary abilities
Natural- this character taps into their natural talents. The quintessential fly-by-the-seat of the pants "smooth operator."
Mystical- the character taps into inner reserves of energy/power. In a modern type campaign this would be the chi powered kung fu master.
Tech- this character relies on outfitting themselves with the best gear, custom fitted and rehearsed so that the right bit of "kit" is always available for the right situation.
So instead of a character choosing Strong Hero or Fast Hero, the character chooses Deadly Martial Guardian or Dexterous Natural Striker, etc. So, how does this all fit into talent trees?
In the FAQ you mention that Talent Trees will be divided along thematic lines. I would suggest that the division should be along game effect as well as thematic lines. The general division being those talents that provide new capabilities in skirmish combat (SC) vs those that provide capabilities in anything outside of skirmish combat (non-skirmish combat, NSC). NSC is an umbrella term for capabilities in social situations, technical stuff (hacking, slicing, repairing, modifying), long term medical care, investigation, research, etc. However, it also includes things that we might normally consider to be under the umbrella of "combat," but are generally only applicable in special combat situations. Here I am talking about talents for things such as sniping, demolitions, pilot/drive, riding (mounts), athletics (climbing/movement over special terrain) and mass combat tactics. The reason that these are not consider SC is because they can generally only be employed if the GM designs an encounter (or the PCs force one) where these types of skills would be useful. So if we look at a sample breakdown of talent trees we might see something like this (#s are not exact, they are just there to demonstrate relative #s):
In terms of Talent selection every character would have access to the 10 generic NSC Talent Trees, 2 ROLE specific NSC Talent Trees, 1 TEMPLATE specific NSC Talent tree and 1 SOURCE specific NSC Talent Tree for a total of 14 NSC Talent Trees to choose from whenever the character gains a NSC Talent . Then each character would have access to 5 ROLE specific SC Talent Trees, 3 TEMPLATE specific SC Talent Trees and 1 SOURCE specific SC Talent Trees for a total of 9 SC Talent Trees to choose from whenever the character gains a SC Talent.
On the level chart characters would receive roughly twice the number of Talents and feats you have currently allotted. Each time a character receives a new talent that talent would be chosen from either a NSC or SC Talent Tree. The relative total number of SC vs NSC talents a character receives over its career would be determined by the choice of one of four "play styles": normal (50% SC, 50% NSC), combat heavy (75% SC, 25% NSC) and combat light (25% SC, 75% NSC), free form (player's choice). Depending on the group, campaign style, etc. all PCs/NPCs could be built with the same "play style" or the "play style" could vary greatly. The obvious benefit of all PCs being built with the same "play style" is that you end up with a party where all characters can contribute roughly equally in most combat encounters. This is a desired state, since regardless of the play style, the combat system is invariably the most detailed game subsystem, requiring the most die rolls and the most amount of real time to resolve. Thus having a party with some characters that do well or even great in combat, while other characters lag behind, leads to an undesirable play environment. A campaign where all PCs have the same "play style" wouldn't necessarily prevent certain PCs from being combat heavy. They just can't get too far ahead of other PCs in the SC realm. A combat heavy character in such a campaign would likely choose those combat themed Talents from under the umbrella of NSC Talents (such as sniping or demolitions Talents).
Note: Obviously character builds using roles like Guardian and Striker are going to be "tougher" (hit more often and harder, and defend better with more HPs), but the "weaker" roles such as leader and controller are still able to contribute equally to the combat by hampering enemies maneuver and bolstering allies.
So what about multiclassing? Two points:
1. FME, characters usually tend to be defined in game by 1) personality (which is mostly player driven and shouldn't be too rules heavy), 2) whether they are considered more "combat" or "skill" focused and 3) what sort of additional capabilities they bring to the party. Of course the players might know that one particular combat heavy character does more damage and another particular combat heavy character has a better defense and more HPs, but it doesn't really define the character. My breakdown (above) has 10 Talent Trees devoted to NSC Talents that all characters, regardless of ROLE, TEMPLATE or POWER SOURCE can choose from. This gives characters great versatility to begin with. There is a reason we want to keep most of a characters SC Talents under the umbrella of its specific ROLE. Why? So that it can fulfill that ROLE. Which again, FME, isn't particularly important in defining the character. It simply defines how that character interacts in combat.
2. Of course players will want to branch out and create unique combinations. To do this they simply take a feat (similar to 4e multiclass feats) that gives them a once per encounter use of a feature from another ROLE, TEMPLATE or POWER SOURCE and allows the character to swap one current SC or NSC Core or Minor Talent for one from a Talent Tree associated with the same ROLE, TEMPLATE or POWER SOURCE they received the feature from. There would be higher level versions of this feat that allow characters to gain permanent use of a ROLE, TEMPLATE or POWER SOURCE feature and also allows them to swap out a Major Talent.
With this system I just described characters have a choice between 64 unique combinations of ROLE, TEMPLATE and POWER SOURCE with a total of 23 Talent Trees to choose from, 10 of which (or ~43% since those numbers are not exact) are not specific to any ROLE, TEMPLATE and/or POWER SOURCE. I think this would make for very diverse characters, whose capabilities in SC are neatly organized by ROLE to enhance playability. It also provides an easy control (play style), that equalizes all characters ability to contribute in SC encounters; should the GM and players want to use it.
Later specialization: I would recommend using a concept similar to the prestige class or prestige path, called a PRESTIGE TEMPLATE. Characters would automatically gain 1-2 of these as the character levels. Each PRESTIGE TEMPLATE would provide the character a series of three features that are gained at specific levels. It would also give the character 1 unique SC Talent Tree and 1 unique NSC Talent Tree to choose from. The prerequisites for these could be widely varied (from none to a specific ROLE, TEMPLATE, POWER SOURCE combo + specific feats and Talents) as the intent is for them to be mostly setting specific.
For those games where particularly high-powered characters are appropriate you could have an EPIC TEMPLATE. These would be similar to a PRESTIGE TEMPLATE, only they would be more powerful.
So let's talk levels and numbers. My recommendation would be that the numbers (attack and defense bonuses) scale slightly slower than your sample table (see my table).
Some clarifications:
NRD- no reasonable defense. This is for those situations when the character can't mount an effective defense based on any skill. So he gets whatever his baseline ability scores give him…plus maybe an enhancement. Whether or not enhancements would apply depends on specifics of the enhancement and the genre/level of realism the game is being played at. For instance, steel physique +1 , might apply to defense against all attacks, or maybe only unarmed and bludgeoning attacks. Also, some enhancements would not apply simply because the skill they are based on doesn't apply. So, lighting parry +2, would easily apply as a defensive enhancement in Star Wars for a Jedi using a lightsaber vs a blaster attack, but wouldn't apply in a modern setting to a swordsman facing a gunslinger.
Characters fill up their available talent slots by 16-18th level. Thereafter they replace talents with increasing more powerful talents.
The basic idea is that minions (1 HP guys) are from levels 1-5. Heroes generally start at level 6. Heroes/villains and henchmen are 6-25th level. 26 and beyond are those exceptional greats of the game world such as Yoda and Sidious. Doing this gives players a solid 20 levels to play through where they are the "heroes." They aren't first level and crappy, nor do they start to become one of the few really powerful entities in the game world 4 to 5 levels before they reach max level.
The rapid increase in numbers (attack bonus, defense bonus, etc) typical to the d20 system just doesn't describe most heroic genres as well as slower increase in base numbers with a faster increase in additional capabilities. The numbers are all relative. In a system like D&D it makes sense for the high level beings to be untouchable by low level beings because the high level beings are literally more powerful (stronger, faster, more durable, have magic, invulnerable, etc). Not to mention that it is relatively easy for a GM to drum up a plausible explanation as to where the hoards of increasingly powerful monsters keep coming from. However, in many genres the heroes and villains are simply exceptional versions of regular people (sometimes with some super powers thrown in). A flatter numbers curve and more rapid increase in additional capabilities lets the denizens of a game world interact more freely with each other while giving players more "toys" for their character. The only time I have ever seen a player really excited about an increase in attack or defense was when they multiclassed into multiple low BAB classes and finally got an attack increase. Every time I tell a player he/she gets a new feat/talent/etc it produces one of two effects: 1) either I get a proud proclamation of the feat/talent the character had carefully picked in advance or 2) the player starts feverishly scouring the game books for his latest goody. That says it all to me. Its about capabilities, not numbers. Numbers need to change, but it is better if they are reasonable, especially in a game meant for broad genres. It is too easy to give characters numbers bonuses if the genre calls for it.